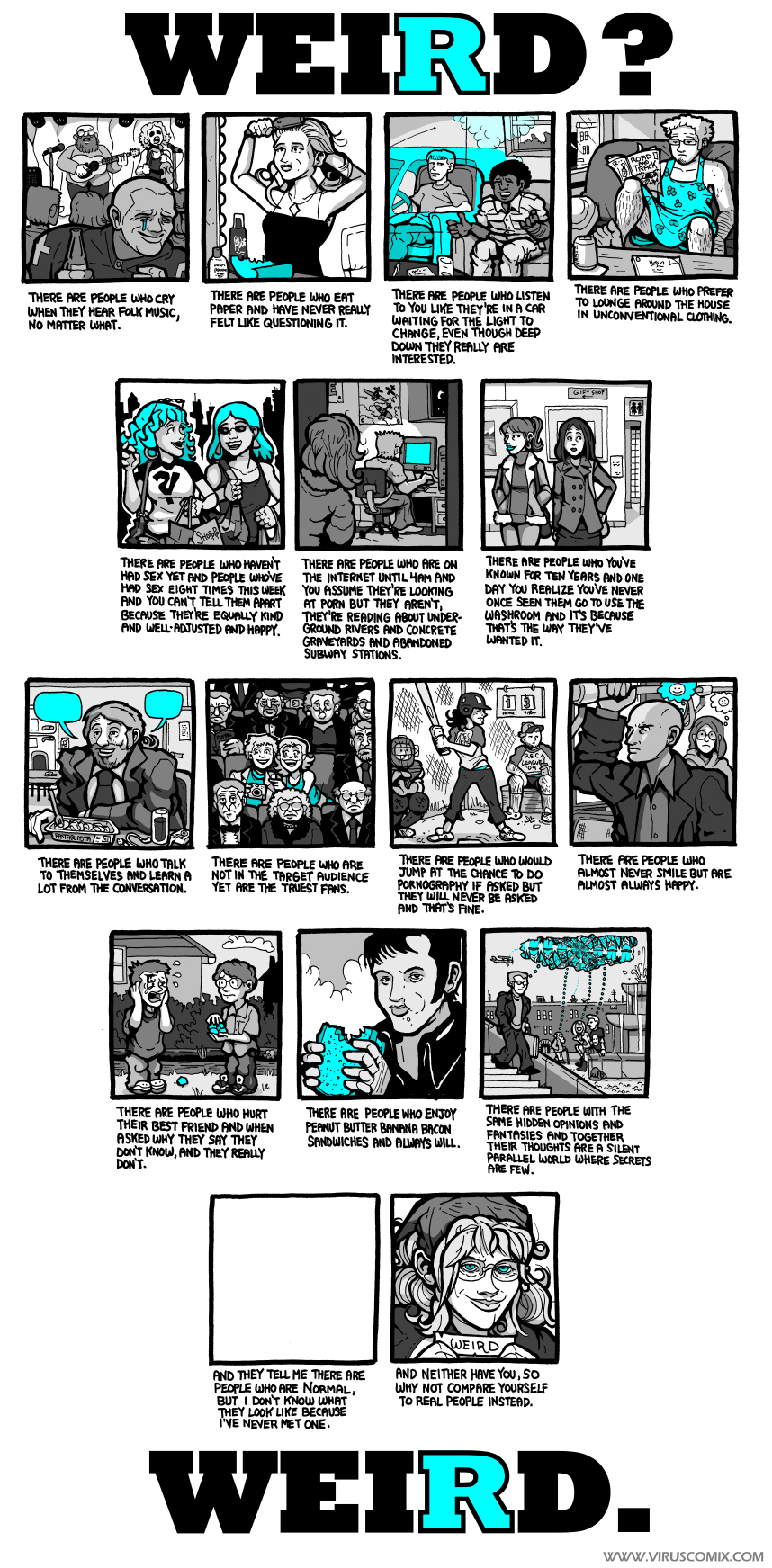 (Click the awesome picture for a larger than life version, you know you want to)
So are you?
Do you do stupid things when no one is looking? Or wear your socks in different colors? Pretend your a ninja when your cleaning the house? Maybe you just love to sing in your car and you always make sure that you pick the worst songs ever for your karaoke adventures. Whatever weird, messed up, or crazy things you do, its these very things that make you a more unique and awesome individual.
I cant stand the bullshit of hearing people say things like, "Act your age", "That guy is so weird", "Ha look at that guy running around and laughing like an idiot, I wonder what drugs hes on". You are lying if you haven't been on the sending or receiving ends of comments just like these. Its not the comments themselves that bother me, because honestly who really gives a shit what other people think of you, its more so about how at that moment people feel as if they are more normal and above the weird person in question.
Who is anyone to judge someone for their habits or mannerisms? I bet if I had a hidden camera installed in your home, you would likely stop your constant reenactments of Tom Cruise in Risky Business in an effort to appear more normal and cool. I will be the first to admit that I am a very unique individual who most certainly acts and thinks outside of the norm on a daily basis. Whether I am singing in a bar or walking around my house naked, I do not apologize for who I am and the idiosyncrasies that separate me from the rest of the heard. Its these quirks that I choose to embrace, rather than shun, and in doing so I am more confident and powerful as a person.
So I ask again, what weird things define you? Take note of these seemingly retarded things that you do, and understand that everyone on this planet that is not a tight-ass has them, and secretly or openly loves doing them. By embracing the differences in yourself, you ultimately embrace the differences in others and will find a sense of joy the next time you are walking down the street and see a guy running around like a crazy lunatic with a huge smile on their face. While your coworkers or friends might scorn at them, you will only smile back.
Cheers to being weird
Gabriel
Related posts: